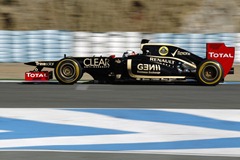 Following the first Formula1 official testing and considering how much the cars were running on that circuit we thought that it would be fun to put everything on paper and see what the teams and drivers did in those 4 days of tests.
  This first days times are completely irrelevant because the teams were more preoccupied to see how all the system's are working and also what are the best set-ups for different scenarios. The times could not be considered as a valid reference because most of the teams have used different quantities of gas as well as used tyres at different levels in order to cover as much aspects of what a race could bring as possible.
  Anyways putting aside Mercedes who used it's W02 car from the previous season the general impression was that the new Lotus E20 seems to be a very well build car and will be the car to keep an eye on in Australia. Kimi and he's teammate Grosjean were extremely happy with the car but the rival also saw that there is a lot of potential in the new E20, while Ferrari and Red Bull were having lots of reliability problems and both teams made a relatively low number of laps and if we are to take a closer look at the number of laps we'll se that Lotus, Williams and Caterham were the most productive teams in term of mileage.
  Pirelli also had some interesting data to share with us, and their official numbers regarding the tyre use was as follows: 181 total tyre sets from which 57 sets were soft (P Zero Yellow), 91 were medium (P Zero White) and 33 were hard(P Zero Silver). none of the teams used the super-soft (P Zero Red) since that tyre remain unchanged compared with the 2011 season.
  The longest stint on hard tyres was 26 laps long while the medium compound was use for 27 consecutive laps, meanwhile the soft tyre lasted for 20 laps.
Below are two tables with the best drivers times and number of laps made and with the teams and the number of kilometers made by each during all four test days:
Fastest times:
| Pos. | Drivers | Teams | Time | Laps |
| --- | --- | --- | --- | --- |
| 01. | Nico Rosberg | Mercedes AMG Petronas | 1m17.613s | 174 |
| 02. | Romain Grosjean | Lotus F1 Team | 1m18.419s | 212 |
| 03. | Michael Schumacher | Mercedes AMG Petronas | 1m18.561s | 174 |
| 04. | Fernando Alonso | Ferrari | 1m18.877s | 106 |
| 05. | Mark Webber | Red Bull | 1m19.184s | 151 |
| 06. | Sebastian Vettel | Red Bull | 1m19.297s | 146 |
| 07. | Lewis Hamilton | Vodafone McLaren Mercedes | 1m19.464s | 166 |
| 08. | Daniel Ricciardo | Scuderia Toro Rosso | 1m19.587s | 157 |
| 09. | Jean Eric Vergne | Scuderia Toro Rosso | 1m19.597s | 159 |
| 10. | Kimi Raikkonen | Lotus F1 Team | 1m19.670s | 192 |
| 11. | Sergio Perez | Sauber F1 Team | 1m19.770s | 116 |
| 12. | Paul di Resta | Sahara Force India | 1m19.772s | 170 |
| 13. | Kamui Kobayashi | Sauber F1 Team | 1m19.834s | 182 |
| 14. | Niko Hulkenberg | Sahara Force India | 1m19.977s | 90 |
| 15. | Bruno Senna | Williams F1 | 1m20.132s | 250 |
| 16. | Jules Bianchi | Sahara Force India | 1m20.221s | 46 |
| 17. | Felipe Massa | Ferrari | 1m20.454s | 164 |
| 18. | Jenson Button | Vodafone McLaren Mercedes | 1m20.688s | 147 |
| 19. | Pastor Maldonado | Williams F1 | 1m21.197s | 122 |
| 20. | Heikki Kovalainen | Caterham F1 Team | 1m21.518s | 167 |
| 21. | Pedro de la Rosa | HRT F1 Team | 1m22.128s | 108 |
| 22. | Jarno Trulli | Caterham F1 Team | 1m22.198s | 117 |
| 23. | Giedo van der Garde | Caterham F1 Team | 1m23.324s | 74 |
Longest runners:
| Pos. | Team | Km |
| --- | --- | --- |
| 01. | Lotus F1 Team | 1789 km |
| 02. | Williams F1 | 1643 km |
| 03. | Caterham F1 | 1585 km |
| 04. | Mercedes AMG Petronas | 1541 km |
| 05. | Scuderia Toro Rosso | 1399 km |
| 06. | Vodafone McLaren Mercedes | 1386 km |
| 07. | Sahara Force India | 1364 km |
| 08. | Sauber F1 Team | 1315 km |
| 09. | Red Bull | 1306 km |
| 10. | Scuderia Ferrari | 1196 km |
| 11. | HRT F1 Team | 478 |