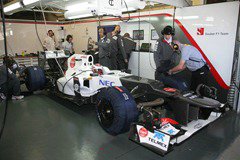 Kobayashi was extremely confident in the fact that the reliability problems that he's team has had during the first official tests are nothing more than a normal stage in the development process and they are nothing to worry about.
  Considering that in the 1st day at Jerez track Sauber had no problems at all, during the next three days they lost plenty valuable time being stuck in the garage and trying to fix various reliability problems that emerged after a very strong start.
  "We have only been four days with the car. It's a new car, so it's normal to have problems at times. We have to continue accumulating miles and investigate the problems. When we started back in 2010, we had no problems in winter, but they started during the season. Compared to that, I think we're in a better position now " explained the Japanese driver.
  While there is still work to be done with the new C31, Kobayashi believes that the potential of the car is good: "We are still checking and making small changes searching for improvement. We worked on the car setup as well, and I know we can improve a lot. Personally I am happy with this car. "
Image: © Sauber F1 Team