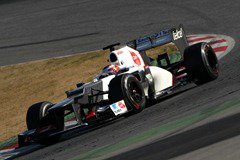 Ten Formula1 teams have confirmed the drivers line-up for the final pre-season test that will take place before the 2012 championship will start in Australia in about three weeks time.
  Among the runners will be once again Team Lotus who was forced to abandon last week tests after they have discovered a serious problem at the E20 chassis.
  Marussia has confirmed that they won't be present at the final test after failing to pass F.I.A. mandatory crash tests while HRT president Luis Pérez-Sala said: "We're working as hard as we can to try and make it to testing in Barcelona this week." at the FOTA on 29   Feb 2012.
This is the full table drivers line-up:
| TEAM | Thursday | Friday | Saturday | Sunday |
| --- | --- | --- | --- | --- |
| Red Bull – Renault | Webber | Vettel | Webber | Vettel |
| McLaren – Mercedes | Button | Hamilton | Button | Hamilton |
| Ferrari | Massa | Alonso | Massa | Alonso |
| Mercedes | Rosberg | Schumacher | Rosberg | Schumacher |
| Lotus F1 – Renault | Grosjean | Grosjean | Raikkonen | Raikkonen |
| Sahara Force India | di Resta | Hulkenberg | di Resta | Hulkenberg |
| Sauber – Ferrari | Perez | Kobayashi | Perez | Kobayashi |
| STR – Ferrari | Vergne | Vergne | Ricciardo | Ricciardo |
| Williams F1 – Renault | Maldonado | Senna / Maldonado | Maldonado / Senna | Senna |
| Caterham F1 | Kovalainen | Kovalainen | Petrov | Petrov |
| HRT F1 Team | will not run | will not run | tba | tba |
| Marussia – Cosworth | will not run | will not run | will not run | will not run |