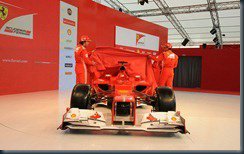 Soon after we published the first images of the new Ferrari F2012 we made a promise to update that with more informations about the car and also to present to you more picture as they become available. Well this is us keeping that promise.
  The F2012 is the 58th car built by the Scuderia Ferrari to take part in the Formula1 Championship and it's name is just following the tradition that Ferrari has in order to name the cars after the year of fabrication.
Many of you may have already heard that the name of this year project was also Project 663 or just 663 in short, the code came from Ferrari's interpretation of the rules that will apply for this year regulations. According to Ferrari this year's car is a totally new design, and everything has been rethink in order to comply with the new regulations and to improve the aerodynamics. Further more suspension has been completely redesigned to allow a lower gravity center, while the front wing is a evolution of the one that we saw last year in action in the last races.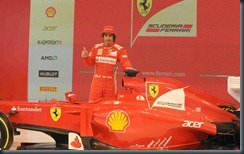 Like Caterham CT01 and Force India VJM05 Ferrari's 2012 challenger also has a step in the nose of the car in order to comply with the new regulations which required a lower nose, but they also did it to be able to lift the backend of the car as much as possible for aerodynamic reasons. F2012 also features repositioned radiators, redesigned gearbox and many other features that set it apart from F150. All those internal modifications led to a much narrower and tapered. The exhaust system was also designed to help the car aerodynamically while the rear wing is very similar with the one used last year. Brakes were redesigned as well in collaboration with Brembo and some optimizations were made.
  The engine was also redesigned, but is an evolution of the engine used last year so no big change was made in powerplant was made, the engine electronics controls have also been remade.  KERS and the rest of the cars electronic systems were upgraded and the main goal was to make all smaller and lot less heavy.
For the tech details fans here what Ferrari released:
The CHASSIS
Carbon-fibre and honeycomb composite structure
Gearbox: Ferrari longitudinal gearbox
Differential: Limited-slip differential
Command: Semiautomatic sequential electronically controlled gearbox with€" quick shift
Number of gears: 7 +Reverse
Brakes: Brembo ventilated carbon-fibre disc brakes
Suspension: Independent suspension, pull-rod activated torsion springs front and rear
Weight with water, lubricant and driver: 640 kg
OZ Wheels (front and rear): 13"
The ENGINE
Type: 056
Number of cylinders: 8
Cylinder block in sand cast aluminium: V 90°
Number of valves: 32
Pneumatic distribution
Total displacement: 2398 cm3
Piston bore: 98 mm
Weight: >95 kg
Electronic injection and ignition
Fuel: Shell V-Power
Lubricant: Shell Helix Ultra
The PICTURES