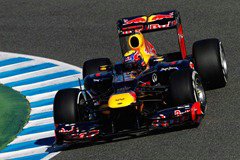 2011 was a season less than stellar for the 36yo Australian who only got one victory in than last race of the season and this one was mainly because of the gremlins from Vettel gearbox.
  Even that Mark Webber never said when he want's to retire from F1 this could be very well out of he's hands (similar with Rubens) if we consider that both Toro Rosso pilots Jean-Eric Vergne and Daniel Ricciardo have their eyes fixed on a Red Bull driving seat.
  The two young drivers have expressed their strong desires to drive for Red Bull in numerous occasions but Mark Webber is not about to give up easily nor to give in to speculations this is why he continues as always by not being worried about this: "Not at all, you know, I have suffered enough on and off the track to know that nothing lasts forever." he added: "If we are to believe everything that media publishes than Kimi Raikkonen would have to replace four years ago"
  Also we must bear in mind that Formula1 depends a lot on it's fans and having two Australian pilots on the grid generates a lot more interest to the sport in he's country and Webbers seems to think the same way about this subject: "I think that what could and will happen is when you'll have Australian pilots winning races and when Daniel will have a good career which I am sure he will all this will make more people to be more interested to Formula1 but will not make things easier for the one's who want a drive, it will just increase the interest toward all aspects of the sport."
Image: © Red Bull