Mark Webber is retiring from formula one at the end of the year in order to drive for Porsche's new Le Mans prototype programme in 2014 and beyond.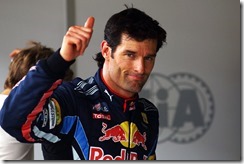 The popular and outspoken 36-year-old Australian has driven for Red Bull since 2007, and has more than 200 grands prix under his belt, including nine wins. "I'm very much looking forward to this new challenge," Webber said in a statement.
The 2007 world champion Kimi Raikkonen is the favourite to replace Webber at Red Bull.
The 36-year-old Australian announced earlier that he is leaving Red Bull and retiring from the category at the end of the year to join Porsche's new Le Mans foray.
Asked if he had options to stay in F1, Webber told his own website: "Yes, but since formula one as a category wasn't on my radar for 2014, they weren't a consideration for me."
The 9-time grand prix winner, and veteran of more than 200 races, said he opted for Le Mans over Porsche for a new challenge, but he hinted that he does not like the direction F1 is headed. Asked if he might return to the grid in the future, he answered: "I'd say it's extremely unlikely, particularly given the new direction the category is going in. "You would be out of touch very quickly."
Webber also denied the 'Multi-21' affair, or his fractious relationship with teammate Sebastian Vettel, had swayed his decision. "No, I've had a personal plan and I've stuck to it. This is the next chapter," he said.
Red Bull team boss Christian Horner on Thursday agreed that Webber's decision to go was the driver's call. "I am sure Mark thought long and hard before making what has no doubt been a very difficult decision," he said. Red Bull said it will name Webber's 2014 replacement "later in the season".
German Vettel would probably like to share his garage next year with friend and Finn Kimi Raikkonen. "I think nobody could have a problem with Kimi as teammate," he is quoted by the Independent, before smiling: "Except for (Sergio) Perez." Following a clash at Monaco, Raikkonen admitted he would like to punch the Mexican "in the face".
But triple world champion Vettel admitted he might not be able to dictate Red Bull's decision. "I could try and have a word, but it's not my decision," he said on Wednesday.
Info: GMM, Image: Red Bull Content Pool