Felipe Massa and Esteban Gutierrez have both been slapped with three-place grid penalties ahead of the Spanish Grand Prix.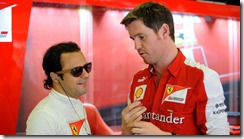 Both drivers were penalised for impeding competitors and the grid drops will see Massa demoted from sixth to ninth while Gutierrez falls from 16th to 19th.
Gutierrez held up Kimi Raikkonen's Lotus in the final sector of the lap in Q1, and although Raikkonen went on to set a quicker time the stewards deemed that he had been disadvantaged. Massa's misdemeanour came in Q2 when he blocked Mark Webber in turn 12, with the Red Bull venting his frustration by raising his hands from the steering wheel.
Webber is one of the drivers who will benefit from the Massa penalty as he moves from eighth to seventh on the grid.
Info: © ESPN EMEA Ltd. Image: Ferrari