Ferrari confirmed after the race in Melbourne that no upgrade will be brought in for F2012 in Malaysia, and they will wait for China to do that but because Massa was struggling with his car they will get a new chassis for him at Sepang Circuit.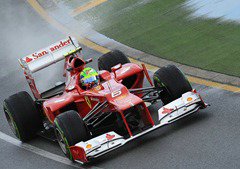 The season opener race in Melbourne was a disaster for Felipe Massa, after he  failed to qualify in Q3 and  was forced to start his race in 16th position by the time he was finally making positions up the grind he also found that his tyres are degrading fast so he needed to pit three times and after that he and Bruno Senna came together and that ended Massa's race putting an end an already bad started weekend.
  His results came in strong contradiction with the results of his team-mate Fernando Alonso who started the race in 12 position but after that he managed to secure a 5th position and save Ferrari from disaster as Italian press would call it.
  Felipe has certainly been the target of criticism after the race in Albert Park. But the Brazilian driver is used to this situation and remembers well 2008 when after two races – Australia and Malaysia – he had a zero in the points column and many of the media were calling for him to be fired on the spot. Many of those commentators had to change their minds given that only a few exceptional circumstances – from the piston in Budapest to the pit stop in Singapore to cite the most striking examples – denied him the world championship. Felipe knows he can count on the team to do everything, both from the technical and the operational point of view, to put him in a better state to show off his talents – even at the cost of extra work in these few days that separate the Australian race from the one in Malaysia. For example work has already begun in the Sepang pits to prepare chassis number 294, which replaces the number 293 and will be used by the Brazilian in the second race of the season. This choice was taken to clear up any doubts about the unusual performance of his car during the weekend at Albert Park.
Info: Ferrari