McLaren is the inventor of a clever system that is currently helping Lewis Hamilton compete at the front of the F1 field.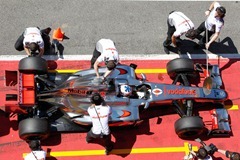 Germany's Auto Motor und Sport, with the collaboration of renowned Formula 1 technical illustrator Giorgio Piola, said the British team is using a system that controls the flow of heat from the brakes into the difficult-to-manage Pirelli tyres.
So in an F1 season in which a degree or two in temperature can bring a tyre in or out of Pirelli's tiny 'window' of performance, the McLaren trick is "ingenious", German journalist Tobias Gruner explained.
The team's mechanics adjust the rear braking system in the pits with a screwdriver, the screw being located near the driver cockpit opening. As Piola's drawings show, the infinite adjustment affects the rear braking system and the flow of braking heat to the tyres.
But it has not been all good news for McLaren, whose Jenson Button is suffering arguably the grimmest period in his entire F1 career at present. It might have something to do with the FIA's recent clampdown on the MP4-27's floor. Reportedly after the Chinese grand prix, the governing body ruled that the British team had stepped over the line with its interpretation of the rules regarding flexibility.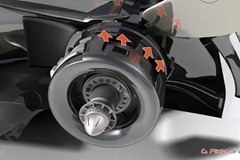 Scratches had been found underneath the extremes of the front wings, to which McLaren argued that the floor bending was within the allowed tolerances. "The tolerance is there to account for manufacturing defects," Charlie Whiting is quoted as saying, after ruling that McLaren's system deliberately exploited those tolerances. Auto Motor und Sport said: "The seemingly minor change had major implications for McLaren." Particularly Button.
The team's subsequent technical changes, including the higher nose and the modified rear suspension geometry, seemingly working for Hamilton, but not for the struggling 2009 world champion.
Getting the 2012 Formula 1 car to work for Button again is now a high priority for McLaren. "The problem is very complex," technical director Paddy Lowe said. "Our car is good, it just has to be set up perfectly." And at the heart of all the F1 teams' quests for performance at the moment is the mysterious Pirelli tyres. "I'd say we understand 30 per cent," admitted Lowe.
Info: GMM, Images: Giorgio Piola & Auto Motor und Sport