Dominating qualifying in the presence of Daimler supremo Dieter Zetsche, Mercedes appears on top of the world in Barcelona.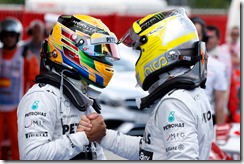 But Nico Rosberg also started from pole position last time out in Bahrain, only for his W04 to chew through Pirelli's tyres and send him tumbling down the field. The silver car has been improved for Barcelona, but team boss Ross Brawn warned: "Our Achilles heel is getting the tyres to last, and I don't think we are quite there yet."
Just behind the W04s on the grid is Red Bull's championship leader Sebastian Vettel. He said: "Historically the Mercedes is pretty aggressive when it comes to looking after the tyres. "Looking at the long runs (in practice), I think Ferrari and Lotus were pretty competitive, so I think we can expect them to be very strong in the race."
Starting fifth, behind Lotus' Kimi Raikkonen, Fernando Alonso agreed: "Nico also started in pole in Bahrain and finished I think ninth. "We are looking at the podium (for Sunday) and maybe something better." In truth, given the dominance of the Pirelli tyre situation this year, it is impossible to make predictions about the outcome of grands prix.
Asked if he is driving a title-challenging car, Lewis Hamilton told Spain's El Pais: "We still don't know. "We are closer than I expected, but I could say now that we have a winning car and then finish fifth and look stupid."
Asked a similar question, Mercedes chairman Niki Lauda answered: "Unfortunately, no one knows. "Every race is a surprise because of the tyres," he told Kleine Zeitung. "A surprise, in one direction or the other."
At the very least, Saturday in Spain went some way to calming the speculation about Mercedes' driver lineup, amid rumours the German marque might be trying to find a spot for Red Bull's Vettel. "A good driver changes everything within the whole team," Lauda, referring to Hamilton's arrival this year, told Britain's Daily Mail. "Nico is even quicker than before as the two drivers motivate one another. I think we have the strongest pair of drivers." And, at the moment, German Rosberg has the edge over superstar Hamilton, with two poles on the trot now in his pocket. "Of course I'm pleased to be ahead of Lewis," he said on Saturday, "because I know he's at a very, very high level in terms of his driving. He's one of the best out there. "When I can be in front of him I'm extremely happy."
Info: GMM, Image: Mercedes GP