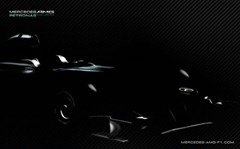 Red Bull thinks that the new Mercedes single-seater W03 will bring an innovation which could be easily copied by it's rivals, being the only top team to delay the unveiling of it's challenger until the second pre-season testing which will start tomorrow 21st Feb and will end on Friday 24th Feb.
  The decision to launch the car so late was taken in December 2011 but Adrian Newey Red Bull's technical director thinks that Mercedes chose this path because the new W03 hides some major innovation which could be easily copied by rivals.
  "I suspect that they want to hide something from the rivals. It must be something that can be easily copied otherwise they wouldn't go to so much trouble to keep the new car hidden" said Newey to the German publication Sport Bild.
  Helmut Marko is also very keen to know what is hiding the new Mercedes challenger and he's convinced that there is something connected with the front end of the car: "It seems that they have something special in the front of the car".
  Mercedes motivation for launching the 2012 challenger so late was that they wanted to give to the engineers as much time as possible to develop the new car, Mercedes has released last week a few teaser pictures with the new car but the nose and rear end were completely hidden.
  Mercedes team was present at Jerez with the 2011 car and they tested there a new front wing with a special F-Duct system that is perfectly legal (unlike the one used by McLaren in 2010) and this system was also tested in Abu Dhabi in November 2011.
  Mercedes AMG Petronas will officially introduce their 2012 challenger at 8:20 CET in the paddock of Circuit de Catalunya.
Image: © Mercedes AMG Petronas