Mercedes was the last of the front runners to launch it's new car for the formula1 2012 championship and they did it just a couple of days before the second official pre-season test which started in Barcelona on February 21st.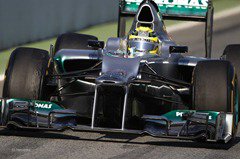 By doing that Mercedes found itself behind it's main rivals who all presented their cars just in time for the first test which took place at the beginning of the month in Jerez, putting McLaren, Ferrari, Lotus, Force India and why not Caterham well ahead of Mercedes in terms of mileage and data collection.
  Rosberg is confident
  But despite all that Nico Rosberg shows much confidence in the new W03 challenger and he's convinced that Mercedes has made great strides forward. He told Autosport that: "We want to win but we are not there yet so we work hard and we are making a lot of progress and that is good to see". The Mercedes driver is sure that: "The team is moving in the right direction and the car is so much better than what it was in the previous years so the job done back at the factory was really good"
  The things are moving forward
"It has a clean design is performing really well so we are looking at big things as a team and is not frustrating  quite the opposite is a great motivation to be a part of this big push that is happening within the team." All the work that Nico and Mercedes ha put in this winter test this far has made the German very confident in the car possibilities and he added: "The progress is evident so that is really nice  to see that everyone is motivated by the results". "As soon as you see the progress the extra motivation follows because you think okay the things are moving forward and we can get there". added the young driver who is also the most well paid driver on the grid who has yet to win a race. Maybe he's luck will change this year.