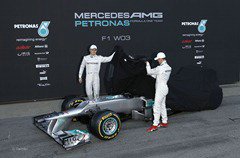 Mercedes AMG Petronas has become the last top team to unveil it's 2012 challenger, but this was not our first glimpse at the car since it was shaken down last week in Silverstone.
  Team Principal Ross Brawn said about the new W03: "The F1 W03 is a car that I believe, and hope, our team can be proud of, and which will deliver the on-track results that everybody has worked so hard to achieve. Notwithstanding the distinctive nose design, which is certainly an acquired taste, the F1 W03 is an elegant interpretation of the current regulations, and a clear step forward over its predecessor in terms of detail design and sophistication."
  The eldest driver of the team and seven times world champion Michael Schumacher is adamant that he still has what it takes to win a race and why not the championship and he was very excited about the new car: "I have done quite a few roll-outs and launches of new cars, but even after all these years, I must say it still feels special. Days like this are precious moments, as they are always filled with hope and anticipation. For my part, I am eager to fight again, looking forward to the new season, and I can't wait for it to begin."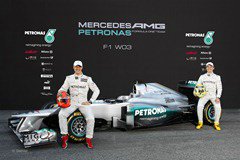 Mercedes-Benz this morning marked two world premieres at the Circuit de Catalunya in Barcelona, with the unveiling of the 2012 Silver Arrow, the MERCEDES AMG PETRONAS F1 W03, and the first public sneak preview of the brand-new Mercedes-Benz SL63 AMG. The new high-performance roadster, which develops 537 PS while delivering weight savings of 125 kg and 30% improved fuel economy, was introduced by Nico Rosberg and Michael Schumacher.
  But to get back at the W03 Nico Rosberg spokes very highly about the design of the new car: "We have had a good start to our 2012 testing programme, and it was a great feeling to drive the first laps in the new F1 W03. The car looks good, and is very nicely packaged under the bodywork – all the parts are in harmony, which reflects how well the different departments of our team are working together. From the beginning of our running, we have been able to focus on understanding the car and making good progress with our test programme. It will be very interesting to learn more about where we stand in the next few weeks."
Here are some of the technical specifications for the new Mercedes 2012 challenger:
MERCEDES AMG PETRONAS F1 W03

Chassis:

Construction:

Moulded carbon fibre and honeycomb composite structure

Suspension:

Wishbone and pushrod/pullrod activated torsion springs and rockers

Dampers:

Penske

Wheels:

BBS forged magnesium

Tyres:

Brakes:

Brembo callipers

Brake discs/pads:

Carbon/Carbon

Steering:

Power assisted rack and pinion

Steering wheel:

Carbon fibre construction

Electronics:

FIA standard ECU and FIA homologated electronic and electrical system

Transmission:

Gearbox Seven speed unit with cast aluminium maincase
Gear selection Sequential, semi-automatic, hydraulic activation
Clutch Carbon plate

Dimensions:

Overall length 4800mm
Overall height 950mm
Overall width 1800mm

Engine

Type:

Mercedes-Benz FO108Z

Capacity:

2.4 litres

Cylinders:

8

Maximum rpm:

18.000 (maximum FIA regulation)

Bank angle:

90°

Piston bore:

98mm (maximum FIA regulation)

No of valves:

32

Weight:

95kg (minimum FIA regulation weight)
Images: © Mercedes AMG Petronas