Reigning world champion Sebastian Vettel, and Melbourne pole-sitter Lewis Hamilton, failed to finish Sunday's 2014 season opener.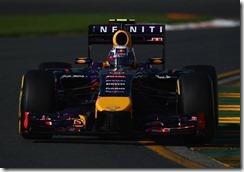 Both men struck trouble right from the start at Albert Park, after a winter of technical struggles up and down the paddock. "It's a long season," said German Vettel, whose run of victories dating all the way back to last August finally ended, "and there are positives." The bright side is that Red Bull's 'crisis' appears to be rapidly ending, as teammate Daniel Ricciardo delighted the partisan crowd by finishing second.
Vettel's problems started before qualifying, when his car's fuel flow sensor reportedly alerted the FIA that the Renault engine was using more than the allowed 100kg of fuel per hour. "The (Renault) software was changed so this no longer occurred," reported Germany's Auto Motor und Sport. "Ricciardo's worked, Vettel's did not." Ricciardo was delighted. "Just two or three weeks ago, I would have bet everything I've got that we would not be standing up here," he told 1980 world champion Alan Jones on the podium. "Full credit to the team for an unbelievable turnaround," the Australian added.
Hamilton, meanwhile, was as glum as Vettel as his otherwise dominant Mercedes struck trouble with an engine misfire. But "the important thing," the Briton said behind the pit buildings, "is that the car is quick. "It's early stages and there's a long way to go. There's massive positives to take from the weekend." Indeed, Hamilton was cheered by the performance of his winning teammate Nico Rosberg, who won easily by almost half a minute. "What a car you have given me," German Rosberg told his Mercedes crew on the radio, "what a car."
More surprising than Rosberg's victory was the fact that doomsday predictions of cars failing left, right and centre did not materialise, as 14 cars saw the chequered flag. "The teams are learning so much so quickly," said former F1 driver David Coulthard on British television BBC. "The ones who have managed the new technology best were Mercedes," he added. Rosberg, however, warned that the arms race is definitely now on. "We can improve and we must improve," he said. "The other teams will not go to sleep so we have to make sure we are ready for Malaysia."