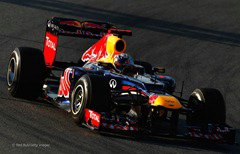 Montmeló was in for a busy day today as Mercedes were about to present their brand new W03 just before the start of the second official pre-season testing session. All teams were present at Circuit de Catalunya this morning with one exception HRT, and as soon as the light turn green they all rushed out hungry for those necessary miles.
  Sebastian Vettel the reigning world champion wanted to be sure that Red Bull will start good this session and he took the first P1 of the week stopping the counter at: 1:23.256 just before the lunch break. Vettel managed to place himself before the Force India's Nico Hulkenberg who managed a lap in just 1:23:440 and who was followed closely by Lewis Hamilton who managed to get he's McLaren at just 0.150s of Nico. However Lewis changed he's program from short runt to long runs in the afternoon and he managed to run impressive 114 laps. Daniel Ricciardo was forth in he's SRT7 before Fernando Alonso.
  It seems that Ferrari had another bad start failing to reach 100 laps mark despite the team admitting that how important would that be. Alonso managed 75 laps before he was sidelined into the pits for a "small issue"
Schumacher and the brand new W03 were not in a great shape either and only managed a sixth place with only 51 laps.
| Pos. | Drivers | Teams | Time | Laps |
| --- | --- | --- | --- | --- |
| 01. | Sebastian Vettel | Red Bull | 1:23.256 | 79 |
| 02. | Nico Hulkenberg | Sahara Force India | 1:23.440 | 97 |
| 03. | Lewis Hamilton | Vodafone McLaren Mercedes | 1:23.590 | 114 |
| 04. | Daniel Ricciardo | Scuderia Toro Rosso | 1:23.618 | 76 |
| 05. | Fernando Alonso | Ferrari | 1:24.100 | 75 |
| 06. | Michael Schumacher | Mercedes AMG Petronas | 1:24.150 | 51 |
| 07. | Sergio Perez | Sauber F1 Team | 1:24.219 | 66 |
| 08. | Bruno Senna | Williams F1 | 1:25.711 | 97 |
| 09. | Heikki Kovalainen | Caterham F1 Team | 1:26.035 | 31 |
| 10. | Romain Grosjean | Lotus F1 Team | 1:26.809 | 7 |
| 11. | Charles Pic | Marussia | 1:28.026 | 121 |
Image: © Red Bull