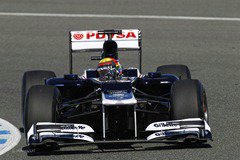 After two days when we had no less than four world champions on the track Thursday the driver's shift has been made and new guys like Mark Webber (Red Bull), Jenson Button (McLaren), Michael Schumacher (Mercedes ) and Felipe Massa (Ferrari) get to "play" with the new toys but the surprise did not came from that but from Pastor Maldonado, who set the fastest time for Williams FW34 in this morning and at the end of he's 103 laps he remained the undefeated champion of Day 3.
  When he managed to score that time he was on super-soft tyres and most definitely had very low fuel on-board but even that shows significant progress from Williams if we compare Maldonado's times whit what was previously clocked by FW34.
  Mercedes AMG Petronas also had a good day with Michael Schumacher at the helm and while they not had the fastest time they were sure to get the highest mileage under their belts with no less than 127 laps. Schumacher was second overall at almost 1 second behind Maldonado while Kamui Kobayashi from Sauber, Jenson Button and Jean-Eric Vergne were the next in line for McLaren and Toro Rosso respectively.
  The teams mechanics were also busy today since many of them were involved in Pit-Stop trainings and Mark Webber decided to get some attention for himself, he managed to red flag the session at some point after he remained without gas very close to turn 8, action that was most probably deliberated.
  Ferrari scored a disappointing 7th today and Felipe Massa also generated a red flag toward the end of the session, and he was followed by another red flag "lover" Paul di Resta who lost a piece of he's car on  the track. The last two position on today's time table have been filled by Timo Glock with the 2011 Marussia car and Vitaly Petrov who declared this at the end of the session:  "We spent quite a bit more time today looking at various areas of the car to help me find a setup I'm really comfortable with and can push on from. Once we'd sorted out this morning's issue we were able to try a few different setup options in the afternoon and by the last couple of runs I think we were heading in the right direction, both mechanically and with the different tyre compounds."
| Pos. | Drivers | Teams | Time | Laps |
| --- | --- | --- | --- | --- |
| 01. | Pastor Maldonado | Williams F1 | 1:22.391 | 106 |
| 02. | Michael Schumacher | Mercedes AMG Petronas | 1:23.384 | 127 |
| 03. | Kamui Kobayashi | Sauber F1 Team | 1:23.582 | 99 |
| 04. | Jenson Button | Vodafone McLaren Mercedes | 1:23.918 | 114 |
| 05. | Jean Eric Vergne | Scuderia Toro Rosso | 1:24.433 | 78 |
| 06. | Felipe Massa | Ferrari | 1:24.771 | 84 |
| 07. | Mark Webber | Red Bull | 1:24.771 | 97 |
| 08. | Paul di Resta | Sahara Force India | 1:25.646 | 83 |
| 09. | Timo Glock | Marussia | 1:26.173 | 108 |
| 10. | Vitaly Petrov | Caterham F1 Team | 1:26.448 | 70 |
Image: © Williams F1