Kamui Kobayashi was in a great form today and he scored the best time of the the day managing to drive more than 660 km surpassing Pastor Maldonado and Jenson Button.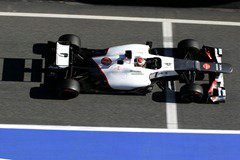 The second pre-season testing season has ended today at the Circuit de Catalunya and it was not shy of surprises while also offered some surprising results.
  If we are to read strictly the numbers than one could say that they are similar with what we saw in the other days and many pilots have concentrated their work into race simulations in  the afternoon so the best time of the day remain  the one scored by Kobayashi in  the morning session.
  Timed with 1:22.312, the Sauber driver set the fastest time for the entire week and went through 145 laps this Friday traveling over 660 km, before stopping on the track with only a few minutes before the end of the session.
  The Japanese driver was followed by Pastor Maldonado with his Williams and Paul di Resta at the Force India VJM05 helm, who tested grass's grip in the morning but still he managed to be faster than McLaren's Jenson Button . Ferrari and Red Bull had another disappointing day in terms of faster times but Ferrari did managed to pass the 100 laps barrier for the first time in both pre-season testing seasons.
  Nico Rosberg took the 8th place with his Mercedes AMG, while Heikki Kovalainen has covered just 70 laps in Caterham CT01 single-seater after an electrical system failure was discovered in the morning.
  Marussia has not made any laps during the day because of a damaged suspension, so Charles Pic has spent all day in the garage. Lotus dropped out from Barcelona's tests on Tuesday night after they have discovered some serious  chassis problems, while HRT has not attended Montmelo's testing session at all.
| Pos. | Drivers | Teams | Time | Laps |
| --- | --- | --- | --- | --- |
| 01. | Kamui Kobayashi | Sauber F1 Team | 1:22.312 | 145 |
| 02. | Pastor Maldonado | Williams F1 | 1:22.561 | 134 |
| 03. | Paul di Resta | Sahara Force India | 1:23.119 | 101 |
| 04. | Jenson Button | Vodafone McLaren Mercedes | 1:23.200 | 115 |
| 05. | Felipe Massa | Ferrari | 1:23.563 | 103 |
| 06. | Mark Webber | Red Bull | 1:23.774 | 85 |
| 07. | Jean Eric Vergne | Scuderia Toro Rosso | 1:23.792 | 92 |
| 08. | Nico Rosberg | Mercedes AMG Petronas | 1:23.843 | 139 |
| 09. | Heikki Kovalainen | Caterham F1 | 1:26.968 | 70 |
Image: © Sauber F1 Team