Stefano Domenicali wants Ferrari on every podium starting with Barcelona but Pat Fry assures that is easier said than done.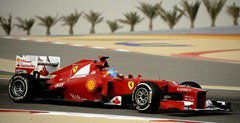 Ferrari is preparing a major update for Barcelona and they will test it in Mugello starting 1st of May. Considering the updates that the engineers are promising Stefano Domenicali said that Ferrari will have to finish on podium every single race after Barcelona.
"Now we must look to the future and make a step up in terms of quality which should allow us to fight for the podium and not just a points finish," he said after last weekend's Bahrain Grand Prix. "That's what I have been asking our engineers for several weeks and by Barcelona, I expect to already see the results of the effort we are expending in every area." said Domenicali
Pat Fry the Technical Director for the Maranello based team is not showing the same optimism as the team boss Stefano Domenicali and he pointed out the other teams will also bring updates to Mugello and Barcelona. He admitted that because of that fact Ferrari needs to improve a lot more than the other teams in the same amount of time if they want to able to fight for at least one title this year.
"We limited the damage in these four races, but clearly we must make significant progress compared to the others in the coming ones if we want to really fight for the title. We are working hard, on all fronts and we hope we will soon start to see the results of all these efforts. It won't be easy, because we have strong competition and they will also make progress: we must do a better job than them."
Info: ESPNF1