The 30 June deadline for putting cost-cutting proposals to the World Motor Sport Council has now passed without any definite agreements, putting cost-cutting proposals under threat.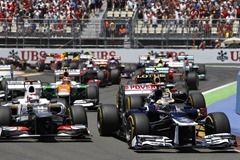 Adding to the headache for those in favour of cost-cutting are recent comments from Sir Frank Williams, founder and  Team principal of the Williams F1 team, who has spoken out against enshrining cost cutting in the FIA regulations. "I am against any kind of interference. I don't want any third-party interference with one's business, to have people sneaking around wanting to check this and that. It's just like waiting for the taxman every day," Williams told formula1.com website.
"Williams is not pleading for more restrictions. But I have said many times that we have to control driver costs." Speaking to Autosport earlier this week, Eric Boullier also sounded a note of caution. But the Enstone boss was more accepting of cost control measures than his colleague from Grove, warning only against agreeing to unsatisfactory solutions as the result of the then-looing 30 June deadline. "It is good that everybody in the paddock understands that we need to be thinking carefully about the future of F1," the Lotus team principal told the magazine. "But we definitely need to take the right decision, and we definitely do not need to rush into a decision that we might regret. … We are all in favour of making F1 better, more sustainable and having a long term plan. Cost-cutting is part of the strategy, but we need to do
it consciously."
Wise words indeed. But given that the 30 June deadline has passed with no agreement reached, anyone wanting to put cost-cutting into the regulations needs to have unanimous agreement from all the teams. And while Red Bull and Toro Rosso are known dissenters, Frank Williams' statements to the formula1.com website suggest the team principal is singing from Bernie Ecclestone's hymn sheet on this one, and not taking the standard FOTA position.
"There are 12 teams and each operates in different circumstances," Williams, below, told the website. "We have several manufacturer teams. One of them is Ferrari, who seem to have a great deal of money and who are in effect subsidised. But that is fine – they are Ferrari. They are the core of Formula 1 and that is how it should be."
Info: GP Week, Formula1.com, Image: Williams Formula 1 Team / LAT Photographic