Paul di Resta has been disqualified from qualifying and sent to the back of the grid after he was found to be 1.5kg underweight at the British Grand Prix.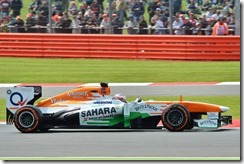 The Force India driver was set to start from fifth on Sunday and the penalty deals a bitter blow after his joint-best qualifying position of his career. Following qualifying the FIA technical delegate Jo Bauer found the car and driver to be underweight and reported it to the stewards.
After further investigation, the stewards concluded di Resta and his car were under the minimum weight of 642kg and disqualified him from the qualifying results.
The stewards deemed it to be a "breach of Article 26.1 of the FIA Formula One Sporting Regulations and Article 4.1 of the FIA Formula One Technical Regulations as defined in Article 1.9 of the FIA Formula One Technical Regulations."
Bauer's technical report read: "After the third qualifying session car number 14, driver Paul di Resta, was weighed 641.5kg, 0.5kg under the minimum weight as required by Article 4.1 of the 2013 Technical Regulations. After this the car was completely drained in order to establish the minimum weight do the car without fuel, 642kg, was respected at all times during the qualifying practice sessions".
"Then the car was weighed again without any fuel on board and weighed only 640.0kg, 2.0kg below of the minimum weight".
"The scales were checked with the calibrated weights supplied by the organizer of the Event and they showed 599.5kg when checking with 600.0kg of weights.
"Taken this 0.5kg into account, car 14 is still 1.5kg below the minimum weight as required by Article 4.1 of the 2013 Formula One Technical Regulations."
Info: ESPN EMEA Ltd. Image: Force India