Tributes have been paid to Professor Sid Watkins, the Formula One doctor who saved the lives of countless members of the sport through his work on safety, who has died after his 84th birthday.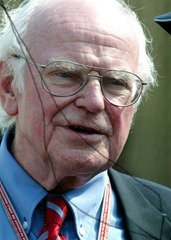 The Formula One community reacted with sadness as it remembered the wisecracking neurosurgeon with a love of cigars and whisky, who tended Ayrton Senna after his fatal crash at Imola in 1994.
Brazilian driver Rubens Barrichello, who suffered a huge crash on the same San Marino Grand Prix weekend that claimed the lives of Senna and Austrian Roland Ratzenberger, said he owed his life to Watkins.
"It was Sid Watkins that saved my life in Imola 94. great guy to be with, always happy … thanks for everything you have done for us drivers. RIP," Barrichello said on Twitter.
"RIP Prof. Sid Watkins. Sad news for us who stay behind," said Senna's nephew Bruno, who now races for the same Williams team that triple champion Ayrton was with when he crashed in May 1, 1994.
Senna remains the last driver fatality in a Formula One race and much of the credit for the survival of others can be laid at the door of Watkins, known simply as 'Prof' by paddock regulars and 'Sid' by closer friends.
Northern Ireland's Martin Donnelly, Finland's double champion Mika Hakkinen, Austrian Gerhard Berger and F1 team founder Frank Williams all owed much to his quick response and care after life-threatening accidents.
Triple champions Jackie Stewart, another safety pioneer before Watkins came along, and Austria's Niki Lauda counted him as a friend.
"Today the world of motor racing lost one of it's true greats," said McLaren chairman and former team principal Ron Dennis, whose cars took Senna to all of his titles, in a statement.
"No he wasn't a driver. No he wasn't an engineer. No, he wasn't a designer. He was a doctor and it's probably fair to say that he did more than anyone, over many years, to make Formula One as safe as it is today.
"Many drivers and ex-drivers owe their lives to his careful and expert work, which resulted in the massive advances in safety levels that today's drivers possibly take for granted."
Born Eric Sidney Watkins in Liverpool on September 6 1928, he graduated as a doctor from the university of Liverpool in 1956, where he had been researching the effect of heat stress on performance – work which would later influence his F1 role.
He served in the Royal Army Medical Corps for four years, before specialising in neurosurgery at Oxford's Radcliffe Infirmary, before becoming head of neurosurgery at the London Hospital – via a spell in New York – in 1970.
After serving as race doctor at Silverstone and the Watkins Glen race circuit, he was brought in to the sport by Formula One supremo Bernie Ecclestone in 1978, shortly before the death of Swedish great Ronnie Peterson at Monza in September of that year.
The Briton worked closely with former International Automobile Federation head Max Mosley to improve track and car safety, stepping down as medical officer only in 2004 but continuing to play a role at the governing body as first president of its foundation.
In his book 'Life at the Limit: Triumph and Tragedy in Formula One" Watkins wrote of Senna's final days and how distraught the Brazilian was at Ratzenberger's death in qualifying.
Advising Senna not to race, he added: "In fact, why don't you give it up altogether? What else do you need to do? You have been world champion three times, you are obviously the quickest driver. Give it up and let's go fishing".
Senna's reply, the last words he spoke to Watkins, was simple: "Sid, there are certain things over which we have no control. I cannot quit, I have to go on.
Info: The National, Image: Google Images
Find us on Facebook and Twitter for all the latest updates for the F1 2012 season