The faces of Red Bull chiefs became notably "worried" as the winter pre-season period wrapped up recently. That is the claim of Marc Surer, a former F1 driver turned German-language commentator.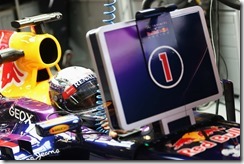 Indeed, as the final test week concluded in Barcelona, Mercedes sped to the top of the time sheets, whilst Mark Webber and Sebastian Vettel languished two seconds too slow. "The faces of the (Red Bull) bosses looked worried," Surer said in an interview with T-Online. "They were missing two seconds to Mercedes, and that's a lot, even if Vettel was carrying a lot of fuel. "They seemed surprised by how quickly Ferrari but especially Mercedes could go."
So why the sudden problem for Red Bull? Throughout the test period, every driver and pundit in the paddock was predicting another strong season for the reigning champions, particularly with the rules remaining basically the same as in 2012. "Red Bull was holding back the newest parts, so that the competition could not copy them," Surer explained. "But they didn't work; the car didn't become faster." Another possibility is that Red Bull's game of bluff is working just as planned.
Niki Lauda, Mercedes shareholder and chairman, told the German broadcaster RTL: "I am delighted that we showed at the last test that we are quick. "But I also know that the value of testing is extremely limited, because we do not know whether and to what extent the other teams have been bluffing." So yet another possibility is that Red Bull's formerly struggling rivals have simply caught up. "Everyone is closer together because there have been no rule changes," said Lauda. "So if you had a slow car, you try to catch up, while if you are Red Bull, you have more difficulty to develop your car because you were already at the top. "We have a good car, no doubt," the famous Austrian told Brazil's O Estado de S.Paulo newspaper. "But to know where we are compared to Red Bull, we need to wait for the first race."
Info: GMM, Image: Red Bull Content Pool