A few weeks ago, Robert Kubica drove a Kart in Italy and has even driven an Skoda Fabia Rally car.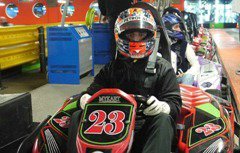 The chances of seeing Robert Kubica back in Formula 1 have appeared pretty slim after Jaime Alguersuari told press that the ex Renault driver is unable to drink a glass of water using his right arm.
But despite Jaime's declaration, new information from Italian press indicates that the Polish driver is feeling better every day and he might be closer to recovery than everyone thinks.
According to My Kart, Robert drove a kart around the track for a few laps and he even managed to beat the track record. And then new information came to light from another Italian publication that presented photos with Robert driving a rally car near Genoa.
Because of the terrific accident Robert Kubica had, he was unable to compete in the Formula 1 2011 season and his contract with Renault also expired at the end of the same year. Taking all this under consideration and looking at Felipe Massa's current poor performance, international press are speculating that the Polish driver could be brought in by Ferrari for the 2013 season.
But whatever happens with Ferrari, we hope to see the driver in F1 very soon!
Image & Info: MyKart.it