Sergio Pérez and the Sauber F1 Team scored their third podium of the season.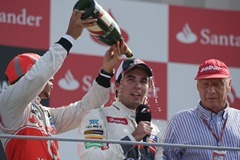 Sergio came second at the Italian Grand Prix in Monza, the same result as earlier this year in Malaysia. Sergio started from 12th and was one of the few drivers on hard tyres. After a difficult first part of the race he put in an amazing second stint when he went through the field like a hot knife through butter.
The Sauber F1 Team equaled its best result of the season, which was a total of 20 points achieved at the German round of the championship. In addition to Sergio's 18 points, his team mate, Kamui Kobayashi, contributed two points by coming ninth at the legendary high speed circuit in the Royal Park. After the end of the European season, the Sauber F1 Team now has exactly 100 points to its tally and remains sixth in the 2012 FIA Formula One Constructors' Championship with seven races to go. Sergio is still ninth in the drivers' championship, while Kamui remains 12th.
Sergio Perez: Start on new hard tyres, after 29 laps change to new medium tyres.
"This was a very enjoyable race for me. It was one of those where you have the pace and are the one to attack. I am very happy for the team which is working very hard. It is a really good team, I am proud of it. I didn't have an easy first stint with the hard tyres but it was certainly the right strategy. I was frequently in contact with the team on the radio because I was worried the tyres would suddenly drop and we would have to change our strategy. Also we were not quite sure how quickly they would warm up. However, it worked out fine, I could stay out as long as I needed to for our strategy. The second stint was then really maximum attack and I must say all of the drivers I overtook have been fair. They didn't leave me more room than they had to, but it was always enough. This is the way it should be. I am very pleased at having achieved my first European podium in Monza."
Kamui Kobayashi: Start on used medium tyres, after 20 laps change to new hard tyres.
"First of all congratulations to Sergio – well done, mate! It is a great day for our team. I have nothing to complain about with my race, but for some reason I just didn't have the pace. Obviously I raced on a different strategy as I had to start on the tyres I qualified with. For both compounds I admit I had a lack of experience as we hadn't managed to do long runs on Friday. I just had a normal race, so there wasn't really anything special."
Monisha Kaltenborn, CEO:
"What a day and what a result! I have to say this comes as somewhat of a surprise on a track which we thought would be quite challenging for our car. But once again we proved our strong race performance. For quite some time Sergio was the fastest driver out there. It's fantastic that the team back at our home base prepared such a competitive car. The race team made the right decisions for the set-up and the strategy and the drivers delivered on the track. These 20 points are very important for our goal to move up in the championship."
Find us on Facebook and Twitter for all the latest updates for the F1 2012 season