Sauber's Sergio Pérez was hit with a five-place grid penalty for German Grand Prix after the FIA race stewards rules he had impeded rivals in qualifying.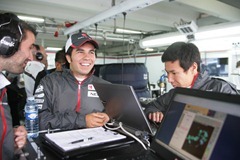 The Mexican driver qualified in 12th place on the grid but will start from 17th after the stewards ruled that he blocked both Fernando Alonso and Kimi Raikkonen in qualifying. During Q2 Raikkonen was heard to tell his team over his radio: "It's again Perez, blocking me on my timed lap. Unbelievable. Unbelievable."
Explaining the severity of their decision, the stewards, Derek Warwick and Tim Mayer said the five-place penalty was imposed because of "the driver being involved in two similar offences in the same session."
Perez is the fourth driver to be given a grid penalty ahead of tomorrow's race. Mark Webber, Romain Grosjean and Nico Rosberg are already facing five-place drops for gearbox changes on their cars.
Source: F1 Press Release
Find us on Facebook and Twitter for all the latest updates for the F1 2012 season