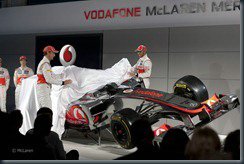 The  McLaren drivers Jenson Button and Lewis Hamilton, unveiled today in London the new car for 2012 season, the so called MP4-27, a car that has the most updated mechanical systems and a totally reworked rear.
   The presentation took place at the team headquarters in Woking (London), McLaren revealed the appearances and technical characteristics of a car that they think will be able  to challenge Red Bull for both titles this year. The car will touch asphalt for the first time next Tuesday at the Spanish circuit of Jerez.
   The new silver arrow MP4-27, is an evolution of the last year car who won for the McLaren team six World Cup races and finished second in the Constructors Championship while Jenson Button also finished second in driver's Championship.
   Its main technical innovations are to be seen in the rear part where the body work has been redesigned to improves the aerodynamics of the car and to accommodate an upgraded cooling system, which will improve the oil cooled gearbox. After uncovering Lewis Hamilton described the new McLaren as having "the most refined aesthetics seen in the latest years". Lewis is confident that his 6th season with the British team will be a strong one, and the 2008 world champion said about the team that: "is working from a solid foundation," and "never surrender" and because of this is always "getting stronger".
   Janson Button added that the presentation of the new car shows the "hard work" that the team has put in the construction of the new MP4-27. "We have to thank the guys who have been working overtime this winter to develop this car," said the British pilot, who will be headed now to Jerez for the next week, when the tests will begin and where all can see what MP4-27 is all about.
see more pictures inside…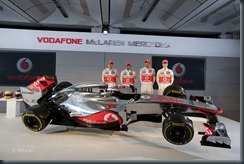 Team principal Martin Whitmarsh said that the MP4-27 is the natural evolution of the  last year model which "showed it's strength," and with the new challenger they intend to qualify for the top spot in every single race of this season. Also the team principal needed to point out that: "Our engineering team continues to develop and grow: the key names are well known department (Tim Gross, chief engineer, Paddy Lowe, technical director and Neil Oatley, design director), while we continue to recruit young graduates of who we are very proud," In addition, the McLaren's team principal said about the Button and Hamilton couple that is "perfect" and they "complement each other and provide an excellent mix of experience, speed and aggressiveness." to the team.
So with no further delay here is the MP47-27 in all it's might:
Images: © McLaren