According to Car and Driver F1, the just landed from Milton Keynes new RB8 chassis, can give Red Bull about half a second per lap boost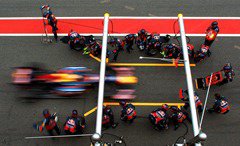 For the last two days of pre-season testing at Montmeló, Red Bull will bring to the track a brand new chassis. This chassis comes with a number of important improvements that will provide the most aerodynamic car on the grid with another ten aero points that can translate into about half a second improvement per lap.
  This aggressive new enhancement package includes new front and rear spoilers a revised exhaust detail, and according to Sky Sports the changes are so broad that the team has had to build a new chassis to accommodate them all after working tirelessly Milton Keynes headquarters.
  "There are not only parts, is a whole new car that has already left the Red Bull factory in Milton Keynes," said the journalist Ted Kravitz to Sky Sports."So for all these mechanics in this Red Bull garage that's the end of work with this particular chassis. This will be chassis number one and rather than fit all the new parts to chassis number two tonight, which would involve a lot more work for these guys, they've decided to fly out the new car.
  Along with  the new chassis arrival for Saturday morning, the Team Principal Christian Horner and Chief Designer Adrian Newey, will also join the team at the Circuit de Catalunya for the last two days of the third-and-final winter test.
  However, Red Bull is not the only team preparing major upgrade packages in the last minute. Pat Fry, technical director of Ferrari, has confirmed that the Scuderia will receive before Sunday's four major improvements to the F2012, while McLaren will do the same with the new MP4-27.
Image: © Getty Images/Red Bull Content Pool