Sebastian Vettel win his first grand prix in 2012 while Lotus fights its way to the podium and McLaren falls behind.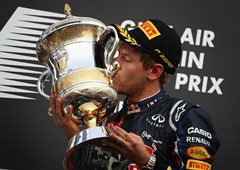 With this victory Vettel becomes the forth driver to score a win this year and he also brings home the first victory for Red Bull in 2012. Starting from pole position Sebastian Vettel reminded everybody today of how he and his team dominated the whole season in 2011 managing to remain in front until the end of the race.
The big surprise of the race was the Lotus F1 team who managed to finish the race with both cars on the podium.
Starting 11th Kimi Raikkonen managed to pass 4 cars right after the start of the race and then in only a few laps he also passed Alonso, Button, Rosberg to find himself 3rd. Having an extra set of soft tyres the Lotus driver made the most of them after the 1st pit stop by attacking his teammate for second place, after Grosjean who was on medium tyres had to yield Kimi's next target was Vettel.
Paul di Resta and his team used a bold strategy today and in the end the risk paid off and the Force India driver who was invisible yesterday had manage to finish 6th after using a two stops strategy.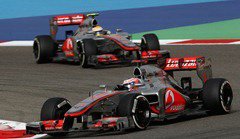 Lewis Hamilton must be one disappointed driver because after he started the race in 2nd place and found himself in a strong position the pits stops managed to ruin his day. Hamilton had to be satisfied with eighth place, largely because he lost valuable time in the first two pit stops due to problems with left-rear tire and because he was also unable to pass a much slower Ferrari in the closing laps of an eventful Grand Prix.
Jenson Button also had to give up on good points after he suffered a puncture to on one his rear tyres and then the Britton was forced to abandon the race entirely only a few laps later because of a mechanical failure.
As usual Alonso took advantage of the problems that hit McLaren and managed to finish 7th in front of Lewis Hamilton while Massa finished the race 9th and winning his first points in 2012.
Another driver that made a good race was Michael Schumacher who after failing to get out the Q1 was also handed a 5 grid penalty for changing the gearbox pushing him further back the grid he managed to pull together a strong race and take the last point given for 10th pace.
Williams was a team with a lot of bad luck today and they saw both of their cars forced to abandon with Pastor Maldonado having a puncture while Bruno Senna's car had developed some mechanical problems. The only other car to abandon  the race was the Marussia driven by Charles Pic who had some engine problems.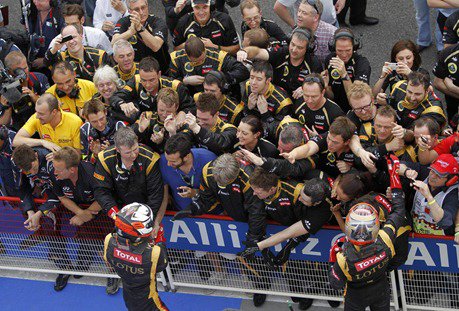 See full Bahrain race results here.
To win F1 2011 or Real Racing 2 games for iOS or Android, click here.
Sources: McLaren/Lotus/Red Bull