Sebastian Vettel and Mark Webber earned a hard-fought one-two victory for Red Bull at the 2013 Malaysian Grand Prix.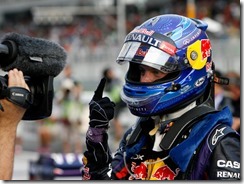 During the final stages of the race the Red Bull duo were battling each other for first place. Webber doggedly held onto his lead throughout the race but was eventually passed by team mate Vettel, who earns his 27th career win and his third Malaysian GP victory.
Mercedes drivers Lewis Hamilton and Nico Rosberg fought throughout the race in the battle for third. Rosberg told team boss Ross Brawn that he was quicker than Hamilton and requested to pass. "Negative" was Brawn's response claiming that he wanted to bring both cars over the finish line.
Hamilton ultimately trumped his team mate for third place while Rosberg finished in fourth. Hamilton caused a few chuckles at the 2013 Malaysian Grand Prix when he accidentally pulled a "Jenson" while driving into the pits of his former team McLaren. See video below:
Ferrari's Felipe Massa finished in fifth place after having a very solitary race, he was the only Ferrari driver to cross the finish line after Alonso lost he's front wing on lap 2 and was forced to retire.
Lotus driver Romain Grosjean beat team mate Kimi Raikkonen for sixth place. Raikkonen, winner of the season-opening Australian grand prix, had a disappointing weekend in Sepang managing to finish in seventh.
Info: Wheels24.co.za