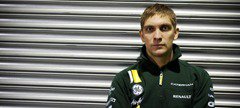 This Friday Vitaly Petrov was confirmed as the second official pilot for the Caterham team replacing the only Italian left on the grid Jarno Trulli and according to he's manager the contract could go beyond the 2012 season.
  To be perfectly honest Petrov's new deal is less than ideal for he's image as driver among the Formula1 fans and media since is clear that it was he's sponsors big pockets the ones who made all this possible and we also must take into consideration that Jarno Trulli was one of the most experienced drivers on grid and also the last Italian left racing in Formula1 and by replacing him Petrov left the F1 grid without an Italian pilot for the first time since 1970.
  "Vitaly was only trying to find he's place on the Formula1 Grid, the rest is the team's "business" insisted he's manager Oksana Kosachenko. Tony Fernandes, the Caterham F1 Team boss was very clear that he brought Vitaly on-board considering only the current economic situation.
  Does that mean that he's a 'pay-driver', and Heikki Kovalainen a clear number one? "As far as I know, we'll have a state of absolute equality." said Kosachenko.
  Oksana revealed that the initial contract is only for one year but that could change. "Right now we are discussing that," said Kosachenko to the Ria Novosti news agency.
  She admitted that at first Bernie Ecclestone, was also involved in finding a seat for Vitaly considering the fast approaching premiere of the Russian Grand Prix in 2014, but Kosachenko, insisted that the final contract was "absolutely an internal agreement between Petrov and Caterham team and nobody else is involved." she said.