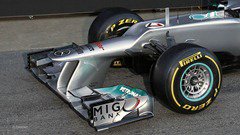 About one week ago we asked if the new Mercedes W03 will be something special and also we pointed out that many people were convinced that the silver arrows will have something truly unique in the nose or on the front of the car, only to learn from GMM that what they have is called a "W-Duct".
  The Finnish broadcaster MTV3, describing the system as 'W-duct', has provided some detail as to how it works. When the car is being driven in a straight line, air flows into the tip of the silver car's nose and is dispersed in a W-like pattern across the length of the front wing, but when the car is cornering, the air flows more predominantly to one side or the other, improving the balance and handling.
Unlike the driver-operated rear wing F-duct, which was banned for 2011, Mercedes' system is entirely passive and requires no moving parts, and is therefore legal. Meanwhile, team boss Ross Brawn on Tuesday defended Mercedes' strategy of employing numerous technical bosses, including Aldo Costa, Bob Bell and Geoff Willis.
"How it works is a mystery to me," Red Bull's Dr Helmut Marko told Die Welt newspaper, "but Mercedes must know what they're doing."
Info: CMM, Image: © Mercedes AMG Petronas