Both Mark Webber and Esteban Gutiérrez were handed grid penalties for the next weekend race in Bahrain.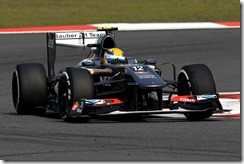 The Red Bull driver will get three-place grid penalty for causing a collision with Jean-Eric Vergne after he tried to sneak pass the inside of Vergne's Toro Rosso into turn 6. The younger driver tried to defend his position by turning in and as the results the two cars collided with Vergne spinning and Webber damaging his front wing.
At first it looked like Webber will be able to limp back to the pits but then his left rear tyre came lose on the track and he was forced to park the car outside the track.
Mark disagrees with the stewards decision and thinks that he was not necessary the person to blame in this incident.
"One view looks like Jean-Eric is giving me the line, the other looks more like it's me. It compounds an amazing weekend for me … " said the Red Bull driver.
On the other incident involving Gutierrez and Sutil there was little doubt about who was to blame in the coming together that ended both drivers race.
The young Mexican driver was handed a five-place grid penalty for ramming the back of the Sutil car after over-shooting a corner.
In a short interview taken after the race Esteban acknowledged his guild and also sent his apologies to Adrian Sutil.
Image: Sauber F1 Team
Like us on Facebook and follow us on Twitter for all the updates of the Formula 1 2013 season.