Mark Webber should be able to cope with life as a highly-paid and rated 'number 2'.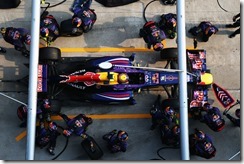 That is the view of former Williams driver Alex Wurz, who is the latest pundit to comment on the 'Multi-21' affair in the wake of the recent Malaysian grand prix. Some, including 1997 world champion Jacques Villeneuve, said the affair and Red Bull's reaction shows it is "clear" Sebastian Vettel is the team's number 1.
On the issue of Australian Webber settling for the subordinate role, Austrian Wurz said: "He has a double digit million salary to help him deal with the pain. "If he believes another team could serve him better, then he should say goodbye," Wurz told Spox. "But at the moment I think he will swallow the bitter pill. "At the end of the day, he is on a team with which he can celebrate successes. If he is lucky and Vettel is not, maybe he could even win the title. "Otherwise, he plays second fiddle, earns good money and is one of the stars of the show. Easy!" the 39-year-old insisted.
On the issue of number 1s, some saw the situation behind the warring Red Bulls in Malaysia as evidence Lewis Hamilton has arrived at Mercedes with clear favourite status. "I think not," Wurz commented. "For sure (Nico) Rosberg and his management will have been straight onto getting an explanation. "(They will be asking) if a pecking order has been established. Or whether it was a spontaneous decision based on logic. "Maybe (Ross) Brawn was not thinking about the friction and the misunderstanding that may arise."
Former Toyota driver Allan McNish, however, thinks Briton Hamilton's new status is obvious. "Even though it's not official," he told the BBC, "there's definitely a strong focus on Hamilton being their main challenge for the championship. "They've opened their arms to Hamilton and they've certainly got their arm round him quite well at the moment."
Info: GMM, Image: Red Bull Content Pool