Mark Webber's victory in the Monaco Grand Prix remains unchallenged on Sunday night.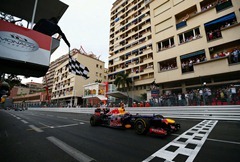 Speculations were made over a potential protest from the rival teams about the legality of his RB8. It was understood that Ferrari, McLaren and Mercedes are upset about the holes in the floor in front of the rear wheels of RB8 as they do not comply with the regulations.
The other teams that are running that holes have been forced to include slots that run out to the edge of the floor to ensure that they are openings and not fully enclosed.
There was talks after the race that either McLaren or Ferrari were going to protest the result, but in the end no team took such action.
The official results were duly published at 6.45pm confirming Mark Webber's victory, and there was no subsequent challenge from any competitor.
Martin Whitmarsh from McLaren said that he is happy to follow the FIA's lead on the matter but he and Stefano Domenicali from Ferrari are seeking clarification on the subject before the next race in Canada. "It is not for me to comment on someone else's car, it is for FIA to make that decision" explained Whitmarsh.
When asked if he expected the matter to be sorted out by next race he said: "Yes. I think it will be sorted out shortly."
Meanwhile the Red Bull Racing boss Christian Horner insists that the teams has the full approval from FIA and that their design is legal.
"I would be disappointed if there would be a protest, it would not be particularly sporting. We are totally happy that our car fully complies with the regulations. We have obviously consulted with the FIA over it and we have their opinion in writing confirming the interpretation, so it would be disappointing if there was a protest. But we are entirely happy that the car completely complies."
Source: Live Sports 24, Image: Red Bull Content Pool/Getty Images