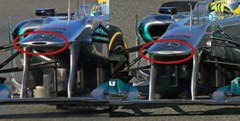 The last year unconfirmed news over the Mercedes W03 was that they managed to incorporate an passive F-Duct into their front wing, this wing will in theory allow the air to enter from there and then be channeled down to the wing struts and further out under the floor.
  It is believed that this front wing is the main reason why Mercedes was flying yesterday, and why Nico managed to put a lap time of just: 01:17:613.
  McLarens Martin Whitmarsh boss is also well aware of the benefits that such a solution can bring, even that the original F-Duct concept was banned back in 2010 the new rules don't apply to the front wing of the car because the pilot will no longer have control over the air flow, the restriction was made only regarding the rear wing and there is less benefit to extract from here  but even so an extra 5-7km/h can be gained in a strait line and more downforce can also be generated by the concept.
Info & Image: TheF1Times.com