Lewis Hamilton completed a clean sweep of fastest practice times in Bahrain as he once again headed Mercedes team mate Nico Rosberg on Saturday afternoon.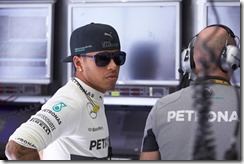 The pair were split by just 0.115s, as the Englishman continued to lead with 1m 35.324s and the German chased him hard with 1m 35.439s.
The big surprise was Sergio Perez's smooth run to third for Force India which made him the only other runner to dip beneath 1m 36s. The Mexican's 1m 35.868s left him just 0.544s shy of Hamilton, and six-tenths up on team mate Nico Hulkenberg, who managed 1m 36.455s in the sister VJM07.
| | | | | |
| --- | --- | --- | --- | --- |
| Pos. | Drivers | Teams | Time | Laps |
| 01. | 44 – Lewis Hamilton | Mercedes AMG Petronas | 1:35.324 | 12 |
| 02. | 06 – Nico Rosberg | Mercedes AMG Petronas | 1:35.439 | 12 |
| 03. | 11 – Sergio Perez | Sahara Force India | 1:35.868 | 10 |
| 04. | 07 – Valtteri Bottas | Williams Martini Racing | 1:36.116 | 10 |
| 05. | 19 – Felipe Massa | Williams Martini Racing | 1:36.364 | 8 |
| 06. | 22 – Jenson Button | McLaren F1 | 1:36.394 | 8 |
| 07. | 14 – Fernando Alonso | Scuderia Ferrari | 1:36.454 | 12 |
| 08. | 27 – Nico Hulkenberg | Sahara Force India | 1:36.455 | 11 |
| 09. | 26 – Daniil Kvyat | Scuderia Toro Rosso | 1:36.680 | 16 |
| 10. | 07 – Kimi Raikkonen | Scuderia Ferrari | 1:36.772 | 13 |
| 11. | 20 – Kevin Magnussen | McLaren F1 | 1:36.822 | 8 |
| 12. | 25 – Jean-Eric Vergne | Scuderia Toro Rosso | 1:37.030 | 11 |
| 13. | 03 – Daniel Ricciardo | Red Bull Racing | 1:37.119 | 11 |
| 14. | 21 – Esteban Gutierrez | Sauber F1 Team | 1:37.325 | 18 |
| 15. | 99 – Adrian Sutil | Sauber F1 Team | 1:38.089 | 24 |
| 16. | 21 – Kamui Kobayashi | Caterham F1 Team | 1:38.400 | 17 |
| 17. | 17 – Jules Bianchi | Marussia F1 Team | 1:38.736 | 15 |
| 18. | 13 – Pastor Maldonado | Lotus F1 Team | 1:38.880 | 21 |
| 19. | 09 – Marcus Ericsson | Caterham F1 Team | 1:38.971 | 18 |
| 20. | 08 – Romain Grosjean | Lotus F1 Team | 1:39.208 | 17 |
| 21. | 01 – Sebastian Vettel | Red Bull Racing | 1:39.225 | 8 |
| 22. | 04 – Max Chilton | Marussia F1 Team | 1:39.597 | 14 |