Nico Rosberg beats teammate Lewis Hamilton for pole position at Belgian Grand Prix.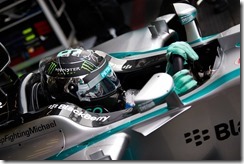 The two Mercedes were in a league of their own, more than two seconds faster than Red Bull's Sebastian Vettel in third.
Ferrari's Fernando Alonso was fourth, ahead of Red Bull's Daniel Ricciardo.
The Australian was fifth ahead of Williams' Valtteri Bottas despite running wide at the high-speed Blanchimont bend.
Pos.

Drivers

Teams

Time

Laps

01.
06 – Nico Rosberg
Mercedes AMG Petronas
2:05.591
22
02.
44 – Lewis Hamilton
Mercedes AMG Petronas
2:05.819
22
03.
01 – Sebastian Vettel
Red Bull Racing
2:07.717
24
04.
14 – Fernando Alonso
Scuderia Ferrari
2:07.786
21
05.
03 – Daniel Ricciardo
Red Bull Racing
2:07.911
21
06.
77 – Valtteri Bottas
Williams Martini Racing
2:08.049
23
07.
20 – Kevin Magnussen
McLaren Mercedes
2:08.679
22
08.
07 – Kimi Raikkonen
Scuderia Ferrari
2:08.780
21
09.
19 – Felipe Massa
Williams Martini Racing
2:09.178
20
10.
22 – Jenson Button
McLaren Mercedes
2:09.776
22
11.
26 – Daniil Kvyat
Scuderia Toro Rosso
2:09.377
16
12.
25 – Jean-Eric Vergne
Scuderia Toro Rosso
2:09.805
13
13.
11 – Sergio Perez
Sahara Force India
2:10.084
16
14.
99 – Adrian Sutil
Sauber F1 Team
2:10.238
17
15.
08 – Romain Grosjean
Lotus F1 Team
2:11.087
16
16.
17 – Jules Bianchi
Marussia F1 Team
2:12.470
14
17.
13 – Pastor Maldonado
Lotus F1 Team
2:11.261
9
18.
27 – Nico Hulkenberg
Sahara Force India
2:11.267
8
19.
04 – Max Chilton
Marussia F1 Team
2:12.566
8
20.
21 – Esteban Gutierrez
Sauber F1 Team
2:13.414
4
21.
45 – Andre Lotterer
Caterham F1 Team
2:13.469
9
22.
09 – Marcus Ericsson
Caterham F1 Team
2:14.438
9
Q1 107% Time: 2:16.029