As plans for three-car and customer teams emerge, F1 may in fact have a full grid for 2015.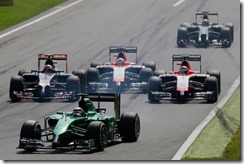 It was reported from Brazil on Sunday that Red Bull and Ferrari may already have agreed to add another car to their garages next year, to plug the holes left by Caterham, Marussia and possibly others. But a Red Bull spokesperson insisted: "Our preference would be a full grid of two-car teams." Bernie Ecclestone also said nothing is certain regarding third cars, and that could be because Marussia and Caterham – albeit absent in Austin and Brazil – could arise from the ashes.
The F1 supremo has been fiercely critical of Caterham's crowdfunding scheme, but the fact is that in mere days, and with the rest of this week still to go, the team's administrators have already raised almost half of the $3.7m they need to race in Abu Dhabi. Ecclestone smirked on Sunday: "If they go to Abu Dhabi, will they have enough money to get back home?" The other team absent and in administration is Marussia, now called Manor, and it was confirmed during the Interlagos weekend that the outfit has now ceased trading and made its staff redundant.
Still, president Graeme Lowdon is not giving up. He told Britain's Sky: "I don't feel like there's no way back. We're very competitive people and we'll keep fighting until there's absolutely no chance at all." Ecclestone confirmed in Brazil that if the absent teams do not return for the Abu Dhabi finale, they will be locked out of F1 for 2015 and beyond. Both, therefore, are aiming for an imminent comeback.
Reports suggest Marussia's administrators are in talks with "serious" potential investors, and a group tasked with leading the talks said: "The team is fully open for investment negotiations and are ready to race in Abu Dhabi provided we find investors for a relatively small injection of funds." So for the moment, with two weeks until 2014 closes Abu Dhabi, the sport is still clinging to a full grid. "We hope all the teams will be there (in Abu Dhabi) and (we) support a full grid of two-car teams," said Red Bull team boss Christian Horner. "We want a healthy grid, healthy racing and competitive racing."
Germany's Auto Motor und Sport, however, reports that just as Red Bull mogul Dietrich Mateschitz is looking to cut funding to his second team Toro Rosso, the Faenza outfit could be able to lose its major sponsor Cepsa to the Real Madrid football team.