In a rare media statement, Ferrari has declared that fans are "unhappy with the new formula one".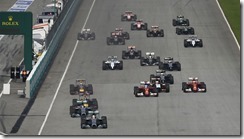 In the past days, the Italian team has polled 50,000 fans and "83 per cent are disappointed" with the new fuel-saving formula, the statement declared. "In addition, the fans don't like the noise from the new engines and are confused by rules that are too complicated," the team added. Ferrari's statement follows a meeting this week between president Luca di Montezemolo and Bernie Ecclestone in London, and the pair will now sit down with FIA president Jean Todt in Bahrain. "I spoke to Luca and we have the same sort of feelings about what needs to be done," F1 chief executive Ecclestone told The Times in Bahrain.
The implication is that Montezemolo and Ecclestone want some rule changes to be implemented quickly. Apparently at the top of the list is a reduction in the race distances, so that drivers can press the throttle harder with the new 100kg per race limit. "We need a bit of support from the teams to get it done," said Ecclestone. "The only team who might be reluctant are Mercedes because they are going so well but I am sure they won't stand in the way of what needs to be done because we all want the sport to be as good as possible." However, Ecclestone might be mistaken in thinking Mercedes will play ball. "I think di Montezemolo didn't say a thing when Michael (Schumacher) won those five world championships," Sepang winner Lewis Hamilton said in Bahrain. "It's the same when McLaren won all their championships that they didn't say anything, and the same with Red Bull when they won, they weren't saying anything," he insisted.
Mercedes-powered Force India driver Sergio Perez, however, on Thursday denounced the 2014 spectacle as "boring". But FIA president Todt on Thursday said there is currently "too much emotion" in the paddock, just two races into F1's technological revolution. "So many things in these past days have been said and written without really thinking," the Frenchman told Auto Motor und Sport. "And the new media very quickly spreads it all over the world," added Todt.
Even Ferrari's Fernando Alonso, while lamenting the fact that the cars are now almost ten seconds slower today than they were just a few years ago, thinks "more time" should pass before the new formula one is written off. "There will be some exciting races and some boring ones," said the Spaniard. "If you allow some more fuel in the cars that are fast, they will be even faster. And the cars that are slow will be a little bit less slow," he added. For now, the fastest car by some margin is the Mercedes, whose engines will be "way quicker than us" on the long Bahrain straights, according to Red Bull's Sebastian Vettel. "The name of the game is to take the focus off yourself and put it on someone else," Hamilton responded. "So I'll do the same — we're expecting them to be really quick this weekend, blah, blah, blah, blah."