October was a horror month for the F1 backmarker Marussia.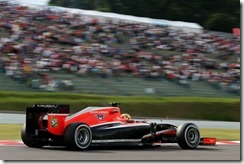 The first, tragic blow came in the shadow of the Suzuka typhoon, when the promising talent Jules Bianchi skidded into a recovery vehicle. He remains in a Japanese hospital, but the latest unofficial news about the Frenchman is brighter. Italy's Omnicorse claims Bianchi, 25, might soon be considered stable enough to be transferred from Japan to Europe, much to the relief of his French parents. The report said Bianchi's next destination could even be Lausanne, Switzerland, and the very same building that until recently housed the F1 great Michael Schumacher.
At the same time, veteran F1 minds including Ross Brawn and Stefano Domenicali are working on a panel that is deeply investigating the circumstances, causes and reaction to the Bianchi crash. The respected correspondent Alberto Antonini, writing in the specialist Italian Autosprint, said the FIA panel is looking into whether Bianchi's crash may have been caused by the new in 2014 'brake-by-wire' system aboard his Marussia. Electronic brake-by-wire, working in conjunction with the complex energy recovery systems for the new turbo V6 engines, has been problematic up and down pitlane in 2014.
Antonini said some insiders suspect brake trouble may have contributed at Suzuka, after eyewitnesses did not see tyre marks on the track before the Bianchi crash scene. "Perhaps it is no accident that at Sochi, Max Chilton – the only Marussia in the race – was stopped for a reason that is not fully understood," he added.
Meanwhile, the Swiss newspaper Blick is reporting that a company called Air Zermatt is proposing that stricken F1 cars be lifted from danger by helicopter in future rather than by driving dangerous recovery vehicles into the escape zones. "This is a safe, easy and quick method," said the helicopter company's chief executive Gerold Biner, who said Air Zermatt's standing proposal to the FIA remains unanswered.
Finally, Marussia backer Andrey Cheglakov confirmed to the Russian news agency Itar-Tass that he has indeed withdrawn from the F1 team. "This is a sad note," he is quoted as saying, "but I want to express my gratitude to each member of the team, both at the track and in Banbury. "We made the impossible possible, becoming the only team to earn points of the three that came to the world of formula one in 2010. "We had the smallest budget but the most motivated staff," Cheglakov added.
#ForzaJules