Like his 2014 teammate Marcus Ericsson, Kamui Kobayashi has travelled to Austin without a formula one car to drive.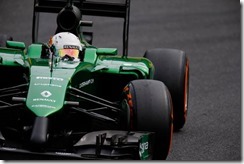 But unlike the Swedish rookie Ericsson, who reportedly carries up to $20 million in personal backing, Japanese Kobayashi looks less likely to secure a race seat elsewhere for 2015, following the collapse of the Caterham team. Leafield based Caterham is in the death throes, even though the insolvency administrator says the green team came close to joining its drivers in the trek to America. "One of the parties interested in buying the team offered to cover the costs," administrator Finbarr O'Connell told the F1 business journalist Christian Sylt, "but, unfortunately, having only been in control of the team since Friday it is not logistically possible to get there."
Writing in Autoweek, Sylt revealed that O'Connell is now making his way to Austin, as he aims to keep the F1 world abreast of developments. One man approached to buy the embattled Caterham or Marussia was the former BAR chief David Richards, but he said he is not interested. "As you can imagine, at Prodrive, we always keep a careful watching brief on the situation in formula one," he said, "but the predicament of Caterham, Marussia and I believe one other team speaks for itself."
Assisting O'Connell in Caterham's administration is Henry Shinners, who is also travelling to Austin. He told British television Sky that time is running out. "We feel that if a buyer doesn't come forward in the next two weeks then we'll probably have to wind it down," said Shinners. Hundreds of hopeful staff are hanging on the latest developments, with even Kobayashi admitting he is relying on the press to keep him up to date. "No one told me," the Japanese told Speed Week, when asked about Caterham having to miss the Austin-Brazil double header. "I read about it on the internet," he exclaimed. "I guess the bosses were too busy to call me or my management. "Now I'm trying to secure my future as a formula one driver," Kobayashi, who is believed to be open to a reserve driver role for 2015, added in Austin.