Daniil Kvyat says he is taking a "step in the dark" this weekend at Monaco.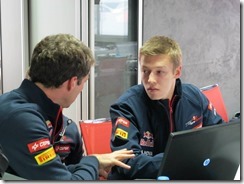 While others in the Principality are soaking up the glamour of the 'jewel' in F1's crown, the Russian 20-year-old is thinking about his very first laps of the challenging layout. Not only that, Sergio Perez said on Wednesday that, with the lower-grip 2014 cars and the high-torque turbo engines, Monaco will be even tougher than usual this year. "We will see drivers make many mistakes," said the Mexican. "It will definitely be more exciting than in recent years." 'Exciting' may not be the right word for Kvyat, who began his F1 career with Toro Rosso this year as a teenager. And he stepped into F1 straight from GP3, a lower-tier formula that does not race at Monaco.
"Monaco for me will be an absolutely new experience," said Kvyat. "Not only have I never raced here, I have never even been on a visit. In fact, I have never raced on any street circuit. "It will really be a step into the unknown for me," he said, explaining that he has spent only half a day driving the layout on the simulator.
Image: Scuderia Toro Rosso