Lewis Hamilton takes the pole for the Malaysian Grand Prix of 2015.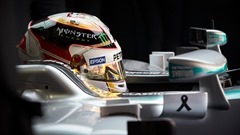 After a rain struck qualifying session we have a copy cat of the last year top three with Sebastian Vettel splitting the two Mercedes drivers.
Hamilton held on with a time set on his first flying lap while Vettel got within just 0.074s of him while Nico Rosberg could not find the proper qualifying pace.
Max Verstappen did a great job for Toro Rosso and qualified sixth in his second F1 race. The Dutchman was just behind the two Red Bulls of Daniel Ricciardo and Daniil Kvyat.
| | | | | |
| --- | --- | --- | --- | --- |
| Pos. | Drivers | Teams | Time | Laps |
| 01. | 44 – Lewis Hamilton | Mercedes AMG Petronas | 1:49.834 | 13 |
| 02. | 01 – Sebastian Vettel | Scuderia Ferrari | 1:49.908 | 13 |
| 03. | 06 – Nico Rosberg | Mercedes AMG Petronas | 1:50.299 | 13 |
| 04. | 03 – Daniel Ricciardo | Red Bull Racing | 1:51.541 | 16 |
| 05. | 26 – Daniil Kvyat | Red Bull Racing | 1:51.951 | 16 |
| 06. | 33 – Max Verstappen | Scuderia Toro Rosso | 1:51.981 | 16 |
| 07. | 19 – Felipe Massa | Williams Martini Racing | 1:52.473 | 17 |
| 08. | 08 – Romain Grosjean | Lotus F1 Team | 1:52.981 | 18 |
| 09. | 77 – Valtteri Bottas | Williams Martini Racing | 1:53.179 | 14 |
| 10. | 09 – Marcus Ericsson | Red Bull Racing | 1:53.261 | 18 |
| 11. | 07 – Kimi Raikkonen | Scuderia Ferrari | 1:42.173 | 7 |
| 12. | 13 – Pastor Maldonado | Lotus F1 Team | 1:42.198 | 11 |
| 13. | 27 – Nico Hulkenberg | Sahara Force India | 1:43.023 | 9 |
| 14. | 11 – Sergio Perez | Sahara Force India | 1:43.469 | 11 |
| 15. | 55 – Carlos Sainz | Scuderia Toro Rosso | 1:43.701 | 9 |
| 16. | 40 – Felipe Nasr | Sauber F1 Team | 1:41.308 | 7 |
| 17. | 22 – Jenson Button | McLaren Honda | 1:41.636 | 8 |
| 18. | 14 – Fernando Alonso | McLaren Honda | 1:41.991 | 8 |
| 19. | 98 – Roberto Mehri | Manor F1 Team | 1:46.677 | 7 |
| 20. | 28 – Will Stevens | Manor F1 Team | no time | 0 |