Mercedes' one-two on Sunday was the first since Juan Manuel Fangio and Piero Taruffi dominated the 1955 Italian grand prix.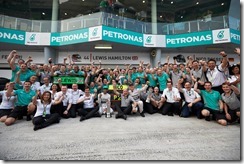 Almost six decades have passed since that day at Monza, but F1's twenty-first century force – Red Bull – made clear Mercedes' new advantage might not last long. Sebastian Vettel was 24 seconds behind winner Lewis Hamilton at Monza, but he was within shouting distance of the other W05, driven by Nico Rosberg. "At some stage it looked like we are pretty similar, pretty evenly matched," said Vettel, "but then it's like he found another gear, he was pulling away."
German Rosberg, however, is worried F1's reigning quadruple world champion is making up ground at an astonishing rate. "The last day of testing was a few weeks ago and they (Red Bull) were absolutely nowhere," he said, "and now he (Vettel) was right in the back of me. "Ok, I had some pace in hand so I could beat him in the end clearly but still, the way they've ramped up their pace, very impressive, so we need to keep on it to keep our advantage."
Vettel told German television he thinks Red Bull is indeed making "bigger steps" than dominant Mercedes at present. Even Mercedes' chairman Niki Lauda agrees with that. "We need to really pay attention to how fast Red Bull is developing," he told RTL television. "I can only advise Mercedes and everybody else to speed up, because in the end, there is only one who can be at the front," added Lauda. "Right now I would say it is clearly Mercedes and then Red Bull. They are now the second force. Then there is a little gap and then comes Ferrari," he said.
Meanwhile, Vettel and Rosberg continued their spat on Sunday, after the world champion had accused his German countryman of holding him up in qualifying. Now, it was Rosberg complaining about Vettel's tactics at the start of the Sepang race. "I thought he (Vettel) was going to put me right into the wall, but he stopped just before — so thank you for that," Rosberg told reporters and Vettel in Malaysia. Vettel replied that he had "a similar experience last year", but Rosberg hit back: "That doesn't make it right to do it again".