Organisers of the British grand prix have counted themselves out of the controversy surrounding the milder sound of F1's new V6 engines.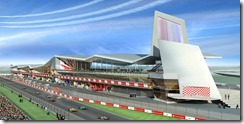 While Melbourne's Ron Walker and F1 supremo Bernie Ecclestone have been making a lot of noise about the sport's new quieter sound, the president of Silverstone's circuit-owning club BRDC thinks the old V8s were in fact "too noisy". "I think they were ear-bleeding," former F1 driver Derek Warwick, also serving as a steward this weekend in Bahrain, told Reuters. "We've just got to re-adjust our volume."
Also in Bahrain this weekend is Richard Phillips, Silverstone's managing director, who thinks fans are actually "intrigued" by the controversial 'new' F1. "From what we have discovered, the fans are really intrigued as to the sights and sounds of this new formula one," he is quoted by the Times newspaper. "Yes, the engines are quieter but we do not feel it will have any impact on our event," Phillips added.
Elsewhere, the public attitudes being expressed by the likes of Walker, Ecclestone, Red Bull's Dietrich Mateschitz and Ferrari's Luca di Montezemolo would make it appear that the new rules have thrown F1 into crisis. Pat Symonds, Williams' technical boss, warns against all the negativity. "I think many people from the UK will remember a guy called Ratner who basically killed his business by negative comments on it," he said on Friday. Symonds is referring to Gerald Ratner, who in 1991 destroyed his jewellery business when in a speech he referred to his company's products as "crap".
Now, it is not surprising FIA president Jean Todt is in Bahrain, where one of his tasks will be to meet personally with world champion Sebastian Vettel, who said the sound his sport is making in 2014 is "shit". Warwick said: "I've been in this sport now for 50 years, I love my sport and I will never talk it down."