Disgruntled small teams Force India, Lotus and Sauber have written a letter to express alarm that F1 appears headed in the direction of 'Super GP2'.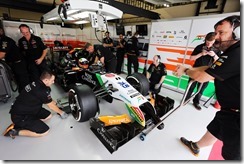 After backmarkers Caterham and Marussia entered administration, and the grid threatened to dwindle yet further amid financial pressures, it became clear that one plan to boost numbers in future is three-car teams. But with the next smallest teams requesting more of the sport's commercial income and even threatening boycott, F1 supremo Bernie Ecclestone suddenly axed talks in Brazil and said the solution is simply for the teams to spend less. "After our meeting in Brazil," a new letter from the three teams to Ecclestone reads, "we clearly see the direction of formula one towards customer cars/Super GP2."
'Super GP2' is reportedly a plan for small teams to abandon being constructors and instead run single-make chassis that count only towards a separate, lower-tier championship. "It is equally clear that the Strategy Group has no intention at all to reduce cost," added the letter, written by Force India's deputy boss Bob Fernley.
The three teams are now requesting urgent new talks at the Abu Dhabi season finale this weekend, where a boycott threat if made would have enormous impact given the championship showdown between Lewis Hamilton and Nico Rosberg. The letter was also sent to the FIA, F1's owner CVC, and the other teams. It referred to a "questionable cartel" headed by Ecclestone and the biggest and most powerful teams in the sport, who control "both the governance of formula one and, apparently, the distribution of funds".
The 'cartel' claim indicates the next step that could be taken by the three teams, who it is believed question even the legality of the strategy group and the distribution of funds under European competition law. Asked if potential legal action is on the cards, Sauber team boss Monisha Kaltenborn – a lawyer by trade – said in Brazil a week ago: "Being a lawyer, you have to be careful with these assessments off the top of your head. "It all sounds very easy and logical, but you really have to look at the detail," she told Britain's Sky. "What is the criteria, does it apply to us or not? "But I don't think we should be going to that stage. We are all sensible people in here (the paddock), we all know that whatever (money) we generate here is through all of us — I'm very sure four teams could not generate this much income."