Adrian Newey has hit back at claims Pirelli's mid-season tyre switch was a stab at the ingenuity of rival teams like Lotus and Ferrari.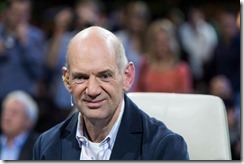 The tyre-exploding dramas of Silverstone in July forced F1 to allow its official tyre supplier to revert to the kevlar-belted construction of 2012. Teams like Lotus and Ferrari, however, complained loudly that the switch negated their pre-season work in specifically adapting their 2013 cars to the new steel-belted Pirellis.
Red Bull designer Newey, whose RB9 utterly dominated the second half of the season in the wake of the tyre switch, rubbished those claims. Speaking on Austrian television Servus TV, the Briton acknowledged that the initial 2013 Pirelli was "much more sensitive" than in 2012, and that the RB9 was quickly wearing the tyres in the fast corners.
He therefore admits that the mid-season switch helped Red Bull, but takes issue with claims rival cars were better suited to the initial Pirelli tyres by design. "I think Lotus and Ferrari made a lot of noise about how clever they were in the winter in anticipating the situation that we saw (early in 2013)," said Newey. "Frankly, I think they were just lucky, just as we were a little unlucky," he added.
Info: GMM, Image: Red Bull