Former F1 doctor Gary Hartstein thinks it is unlikely Michael Schumacher will recover after more than 12 weeks in a coma and counting.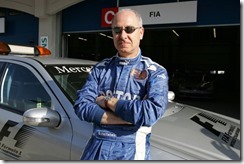 The German legend has been in his hospital bed in Grenoble since the end of December, following a skiing fall in the French alps. "As time goes on, it becomes less and less likely that Michael will emerge to any significant extent," American Hartstein, whose contract was not renewed by F1's governing body after the 2012 season, wrote in his latest blog entry.
And he thinks "really bad news" about Schumacher's prospects might be issued soon, due to a "terribly dismal prognosis". "I think it is inevitable that should the status quo continue, the ICU staff may well, at some point in the not-distant future, decide that the patient they've just been asked to admit has a higher need for that bed than Michael, given his clinical situation and prognosis," said Hartstein.
Hartstein, who succeeded F1's retiring Sid Watkins in 2005, has been critical of the Schumacher family's public silence throughout his hospitalisation. But he thinks that silence might soon have an unexpected benefit. "I've realised that perhaps the lack of status updates has given us all a chance to move on a bit, to process what's happening, and to start to detach," said Hartstein.