Bahrain has receded as a weighty political issue in F1, as the sport schedules back-to-back winter tests in the island kingdom.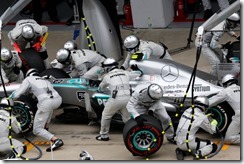 Racing in Bahrain has been a highly controversial topic since the civil uprisings of 2011, when the grand prix was cancelled due to violence. It has remained a contentious issue until now, but F1's 2014 engine makers – Mercedes, Renault and Ferrari – have selected the Sakhir circuit as the ideal testing ground for days of pre-season testing of the new turbo V6 units.
It will force the teams to be based in Bahrain for days and even weeks during the European winter, amid the prospect of another return to the kingdom for a reportedly floodlit race weeks later in April. According to the Reuters news agency, however, the teams are much more relaxed about Bahrain these days. "I think people are relaxed about going there based on their experience of this year," said Martin Whitmarsh, boss of the partly Bahrain-owned British team McLaren.
Mercedes team boss Ross Brawn added: "Quite frankly, it's not been a major topic, it's not been discussed, so hopefully we can have a quiet time there. "There have been assurances about the conditions there," he said. Brawn said Bahrain had emerged as the ideal venue for crucial pre-season running of the new engines. "From the purely technical perspective, Bahrain is a more representative circuit," he said, undoubtedly referring to the more traditional winter test venues in Spain. "We can test there (in Bahrain), we prefer to test there. It's the best, most suitable track at that time of the year," added Brawn.
Info: GMM, Image: Mercedes GP