Jules Bianchi was on course for a future wearing Ferrari red — and perhaps as soon as 2015.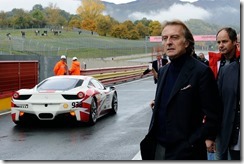 That is the claim of outgoing Ferrari president Luca di Montezemolo, who told Italian media at the Genoa Boat Show on Monday that he was "very sad" to know the team's leading 'academy' driver is now fighting for his life in Japan. "This boy was born with us, and we thought of him as our driver of the future," Montezemolo is quoted as saying.
Frenchman Bianchi was a Ferrari-powered Marussia driver when he tragically ploughed into a recovery vehicle during the rain-affected Japanese grand prix. But Montezemolo said he had a definite future at Maranello. "If – as I think we will have to – we line up with three cars next year, we thought of him for the third car and he would have been perfect for the coming years," he revealed. "I just hope we have some good news soon. "Unfortunately, we always talk about these things with the benefit of hindsight, but we do have to think of what happened if something did not work at Suzuka. If there was something wrong we have to change," said Montezemolo.
"Definitely it was a very special race with little visibility at 3 in the afternoon and plenty of water. We have also had other races in these conditions and nothing happened. "The important thing is to understand the reason and prevent it from happening again," he added.